Crawl Space Insulation Experts in Greater Savannah
Prevent mold, moisture & comfort problems with the right insulation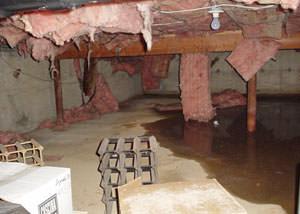 Fiberglass insulation in a crawl space tends to soak up moisture and humidity, growing mold and eventually causing it to "drip" off the ceiling.
Crawl space insulation is important. A number of comfort and energy problems are caused by inadequate or incorrect crawl space insulation.
Any crawl space can be wet and damp, so the insulation must hold up in those conditions. We recommend installing a vapor barrier along with proper insulation to prevent mold and moisture problems and keep your home comfortable year-round.
When you count on Lowcountry Foundation Repair for your crawl space insulation needs, we will send out an expert technician to inspect your crawl space and recommend the right services. We have the tools and experience to seal air leaks and install high-performance insulation to help improve your home's comfort and energy efficiency.
Contact us today for your crawl space insulation quote! We serve Macon, Charleston, Savannah and many surrounding areas.
Contact Us for a Free Estimate!
Lowcountry Foundation Repair services Mount Pleasant, North Charleston, Summerville, Warner Robins, Hilton Head Island, Fayetteville, Goose Creek and many nearby areas in Georgia and South Carolina.
Looking for a price? Get a no cost, no obligation free estimate.