Thermal Insulation for Crawl Spaces in Greater Savannah
The best choice for insulating Georgia and South Carolina crawl spaces
We can make your whole home more comfortable and energy efficient with our crawl space insulation solutions.
You're not alone if you've got a crawl space with soggy fiberglass insulation, damp walls, mold on the joists, or signs of rodent activity. These issues are typical in open or vented crawl spaces. By isolating the house from the earth and sealing air leaks, you can greatly improve the health, comfort, and energy efficiency of your home.
Foamax is an advanced polyisocyanurate foam insulation panel designed with a white foil finish on the front and a foil vapor barrier on the back to help control crawl space humidity. Foamax thermal insulation makes a big difference in the temperature of the crawl space, lowering heating and cooling costs. For maximum energy efficiency, we install Foamax along with rim joist insulation. If you live in Macon, Savannah, Charleston or nearby, contact us today for a free crawl space insulation estimate.
Why insulate crawl space walls, not the floor?
Two common methods for insulating crawl spaces are adding fiberglass insulation or spray foam to the floor above the crawl space. There are three primary issues with these options.
First, when fiberglass insulation becomes damp, it needs to be replaced. This can get expensive over time.
Second, using spray foam on the floor without reducing wood moisture seals the moisture into the wood, causing it to rot at an accelerated rate. Additionally, any water leaks above the crawl space will get trapped in the wood. The spray foam acts like a large bowl, collecting the water.
Finally, insulation should always be installed against the air boundary of the house. In a properly sealed crawl space, the air boundary is the crawl space walls and floor. The floor above is full of gaps, joints, and chases for wires, pipes, and ducts. Instead of an air boundary, the floor above the crawl space is a primary source of air leaks.
Today, energy experts recommend that crawl spaces be part of the home's conditioned space - the area that's heated and cooled. By sealing all air leaks, adding a vapor barrier, and insulating the walls and floor of the crawl space, you can make the crawl space part of the conditioned space of the house. There are several benefits of adding thermal insulation to the crawl space walls. The primary benefits are condensation is eliminated, energy loss is reduced, and drafts are minimized. 
Advantages of Foamax insulation for crawl spaces
Foamax is a polyisocyanurate foam insulation panel with a white foil finish on the front and a foil vapor barrier on the back. The wall insulation panel offers multiple benefits and high-performance features:
Higher R-value than other types of rigid foam board insulation
Pays for itself - a great investment
Resists damage from water
Brightens the crawl space - ideal for using for storage
Can be left exposed - doesn't need to be covered
Polyisocyanurate foam insulation is superior to fiberglass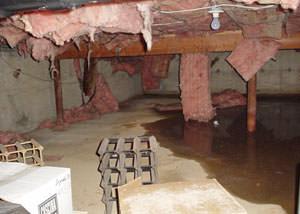 Fiberglass insulation and moisture don't mix. Fiberglass insulation does little when it's damp or hanging off of crawl space joists.
Polyisocyanurate foam board insulation, including Foamax, provides greater insulating effectiveness than fiberglass insulation. But there's another benefit to using polyisocyanurate foam for crawl space insulating. Unlike fiberglass, which doesn't effectively insulate when it's damp or not inside of a closed cavity, polyisocyanurate foam board resists damage from water. This prevents mold growth and reduces the risk of future moisture damage.
An additional benefit of sealing and insulating the crawl space walls and the floor is insulation on the floor above the crawl space is no longer needed. If this insulation is moldy or in bad shape, it can be removed and doesn't need to be replaced.
Foamax crawl space insulation benefits the whole house
Insulate your crawl space today! When your crawl space isn't insulated or isn't insulated properly, the home uses more energy than necessary to heat or cool the home. Worse, if there's fiberglass insulation in the crawl space, this can contribute to mold, rot, and pest issues. Insulating the crawl space with Foamax improves the home's overall comfort and energy efficiency. Homeowners in Greater Savannah who properly fix their vented crawl spaces can save as much as 25% on their heating and air conditioning costs.
If you're looking for a better solution for insulating your crawl space, we're your expert crawl space repair contractor in Greater Savannah. We offer free crawl space insulation estimates in Savannah, Macon, Charleston and surrounding areas in Georgia and South Carolina. Learn more about our crawl space repair solutions, including our crawl space dehumidifier, or get started by scheduling a free estimate today!
Looking for a price? Get a no cost, no obligation free estimate.