Home
»
Basement Waterproofing
Basement Waterproofing in Macon, Savannah, Charleston
Basement Waterproofing Contractor in GA and SC
Here at Lowcountry Foundation Repair, our licensed contractors been fixing wet basements and basement leaks in neighborhoods like yours since 1996. Our certified technicians have the expertise you need to get the job done quickly, effectively, and permanently. There's no job too large or small -- and there's no wet basement we can't fix!
Let one of our highly trained wet basement repair specialists come and give you a free waterproofing estimate on your basement water problem. Our company wants to help you make your damp basement dry all the time at an affordable price!
Common Waterproofing Solutions:
(Click for more information about each solution.)
Through years of research, Basement Systems®, Inc. has developed the most effective and long-term solutions for wet basements. Their products have been keeping basements dry in the United States, Canada, and the United Kingdom since 1987.
To date, our waterproofing systems have been used to repair hundreds of thousands of basements and crawl spaces worldwide!
Our Innovative Approach
We've taken the best concepts from conventional waterproofing methods and combined them to create the most innovative, effective basement repair systems in the industry.
These products include French drains and sump pump systems that are custom-designed to handle all problems that arise in below-grade spaces.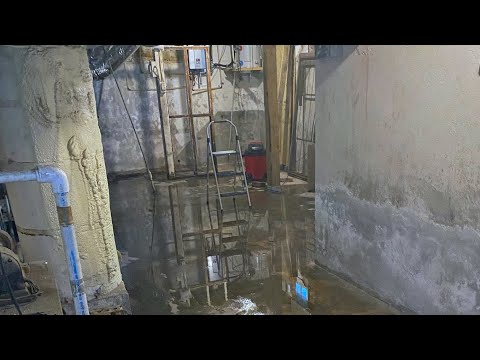 Wet Basement Fixed in Savannah, GA
This home in Savannah, GA had water pooling in the basement. After checking online, the homeowner found...
Watch Video
Related Videos
Professional, Certified Waterproofers In Georgia and South Carolina
Basement flooding and basement water problems are as old as the structures themselves. Water will leak into a basement through any opening it can, including your walls, floors, and the joints between them. Water can even pass through the concrete itself -- which is one reason why basements are notoriously damp, humid spaces.
Other companies might try to sell you on inferior basement repair or basement waterproofing solutions. Our products have been developed, patented, and perfected specifically for leaky, seeping or flooded basements by Basement Systems®, Inc. -- the world's largest network of basement waterproofing contractors.
Whether you live in Charleston, Savannah, Macon, Warner Robins, Mount Pleasant, North Charleston, Goose Creek, Hilton Head Island, Fayetteville, Summerville, Bluffton, Kingsland, Okatie, Dublin, Brunswick, our company's experienced basement contractors will show you how we can customize your waterproofing solution to keep your leaky, damp basement dry all the time! For a free, no-obligation waterproofing cost quote, contact us by phone or e-mail today!
Six Great Reasons to Choose Us
Quality Products: Basement Systems® dealers have been installing their patented, award-winning products for more than 30 years.
Fast Installations: Our system installs quickly, with most projects completed in just one to two days.
Experienced Crews: A crew of experienced workers will arrive to install your system quickly and professionally. Each one is a waterproofing specialist who dries basements every day.
A Cost-Effective System: Our waterproofing system can be customized to fit your budget, and it costs about half as much as an exterior waterproofing system.
Locally Owned And Operated Contractors: Lowcountry Foundation Repair is locally owned and operated and has been in business since 1996. They're a stable, well-established company that's there when you need them!
Free Waterproofing Quotes: We offer free waterproofing quotes to homeowners in our service area. Our quotes come in writing, and there's no obligation!