Foundation Wall Problems in Macon and nearby in Georgia and South Carolina
If you have buckling, or cracked walls, we can help!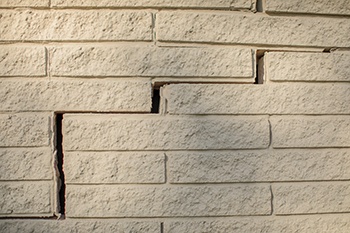 Know the signs. Stair step cracks are among the most common signs of potentially serious damage to foundation walls.
Have you noticed cracks in your foundation walls? Do you have uneven walls and sticking doors and windows? If so, you may have a serious foundation wall problem.
Lowcountry Foundation Repair specializes in providing quality foundation wall repair. Our trained professionals can diagnose the cause of all types of foundation wall problems and provide you with a long lasting solution that will stabilize your home.
If you have issues with buckling or cracked foundation walls in your home, call us today at 1-833-387-1024 or contact us online to learn more about how we can help you. We offer free estimates in Macon, Savannah, Charleston and throughout the surrounding areas.
Wall Cracks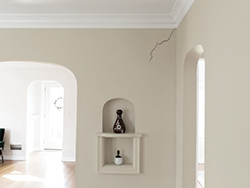 Wall cracks come in a variety of types, including horizontal or vertical cracks running the length of the wall, stair step cracks, and diagonal cracks in corners around doors and windows. Foundation wall cracks are generally caused by the natural shrinkage of concrete as it cures, foundation settlement, and expansive soils. Though a small crack may not be cause for concern, any significant crack could be an indicator of structural problems with your foundation.
We use different solutions to repair different types of wall cracks. Foundation piers are a good solution for settling foundations in weaker soils, as they provide an extra level of support for the home. Cracks in walls on living levels are sometimes caused by sagging crawl spaces, which we fix with our crawl space support jacks. Our experts will identify the cause of your wall cracks and provide you with the right solution.
Restore your foundation walls in Greater Savannah
If you're having problems with damaged foundation walls in your home, call the experts at Lowcountry Foundation Repair today. We offer complete foundation repair services to ensure that your home is safe, stable, and maintains its value.
If you have a foundation problem in your home, call us today at 1-833-387-1024 or contact us online to get started with a free estimate! We proudly provide foundation wall repair in Macon, Savannah, Charleston, North Charleston, Mount Pleasant, Warner Robins, Summerville, Goose Creek, Hilton Head Island, Fayetteville and throughout the surrounding areas.
Looking for a price? Get a no cost, no obligation free estimate.